Ventilation Facilities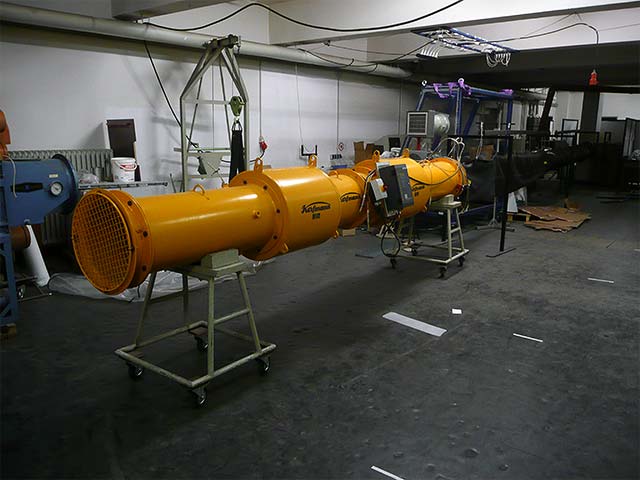 Mine Ventilation
The subject area of mine ventilation is an essential element to Mining Engineering in general. By "mine ventilation", the sufficient supply of mines with fresh air is understood. Due to the importance of mine ventilation to the subsurface extraction of mineral resources, the knowledge of the core characteristics of mine ventilation is indispensable for each and every mining engineer.
To enhance the theoretical skills acquired in the lecture "Mine Ventilation", the Institute of Mineral Resources Engineering keeps simulation facilities for mine ventilation in its basement. Here, the students learn first hand about fluid dynamics using the example of actual mine fans formerly used in underground mines.The experimental equipment contains a small main fan, an auxiliary ventilation fan and corresponding ducts, a mine climate model as well as smaller axial and radial fans.
During the experiments, the students learn about operational backgrounds, the safety-related and climate-related necessity and the economic impact of mine ventilation. In addition, the students plan the supply of a whole mine with fresh air with the help of a mine model called "Wettermodell" situated in a further basement room. The control of air flows in the mine model is carried out by differential pressure sensors, whose recordings can be visualized with specially developed computer software. The project work is then expanded by a ventilation planning software, which is internationally applied in mining operation and mine planning.