ABH
The interaction between geotechnical covers and vegetation of waste rock dumps has been only partially investigated. Large planning uncertainties exist concerning the long-term success of the re vegetation of dumps. With regard to the rehabilitation of the legacy of uranium mining long-term experience will be compiled with the recultivation of dumps from hard coal and lignite mines, in order to create a possible comprehensive basis for future approaches of covering and revegetation of dumps.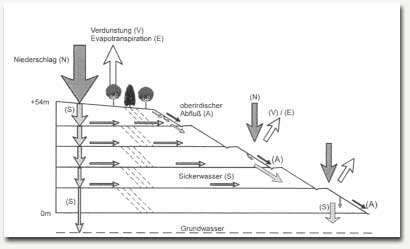 Investigation focal points within the study are among others the physical processes at the dumps and their impact on the vegetation as shown in the figure. In addition the risk and cost-determining factors are investigated.
The risk-determining factors are:
Rainfall infiltration
Oxygen inflow
Escape of gases
Probability of failure of the vegetation
 
The cost-determining factors are:
Production expenses
Need of care
Need of control
Minimum / maximum slope angle
In particular, the success or failure of the revegetation depends on the constraints of weathering, climate, subsidence, slope angle and re-use of land. Therefore, the implemented concepts are examined in relation to their probability of failure.