XPS II
Expert System "Mining related Planning"
The aim of the EU research project is to effectively assist the design engineers in their work in investigating the flaws and mistakes of a mine layout with the help of an expert system. For this purpose the prototype which was developed between 1992 -1994 at the Institute of Mining Engineering I, was further developed to an economically useable expert system for the mining related planning and was integrated in the working environment of design engineer in coal mines.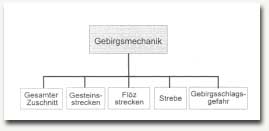 Analogous to the mining structure with its planning tasks, the knowledge base of expert system is divided in 8 modules. The figures illustrate the structure of the expert system and the existing rock mechanics module.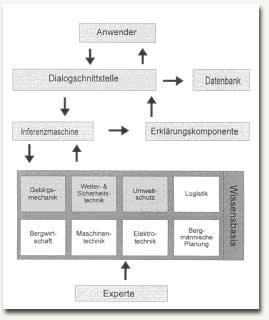 Currently the rock mechanics module will be extended, updated and prepared for the trial use in the hard coal mines. At the same time, environmental protection module as well as the weather and safety modules will be developed and integrated in the expert system.