Research Group on Sustainable Mining
Mining companies and their suppliers operate small- and large scale projects. Merger & acquisition activities lead to internationally acting enterprises. National governments are trying to prepare regulatory frameworks for these complex structures and are thereby facing global markets. The dynamic behaviour of demand and supply creates new challenges for downstream industries and the related economies and motivates innovative approaches towards resource efficiency. The MRE conducts research and provides services in the complex network of economic relations and corporate challenges.
With "sustainability" as the key issue, we focus on an efficient use of production resources, a reduction or rather avoidance of emissions, a responsible treatment of natural deposits and claimed areas as well as social responsibility. Under the consideration of the economic feasibility, the MRE develops practical solutions for case-specific problems but also contributes to answering global questions as well.
The Research Group on Sustainable Mining meets within a varied field of activity the current challenges of the mining industry: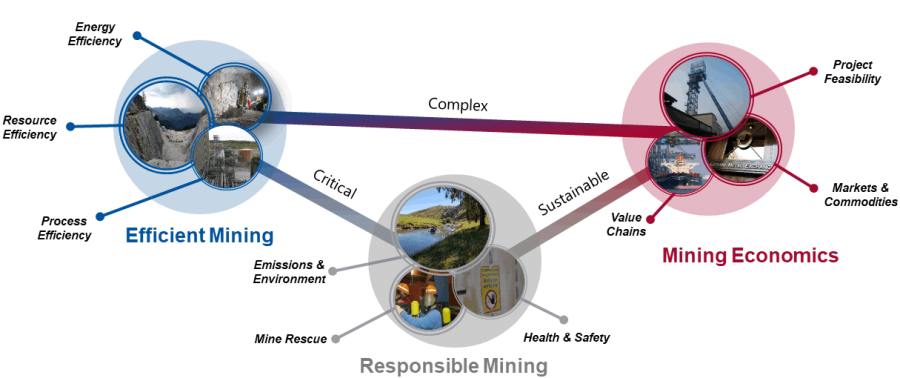 Figure: Thematic Structure of MRE's Research Group on Sustainable Mining
The field Mining Economics includes micro- as well as macro-economic phenomena of mining and reaches from the development and assessment of mining projects over market surveys up to the analysis of supply and value chains.
With the examination of process- and energy efficiency of the mining industry, Efficient Mining includes the global challenges in resource consumption and production and considers further the efficient use of deposits.
Responsible Mining implies on the one hand the careful handling of environmental impacts in mining operations and on the other hand the preventive realization of Health & Safety regulations and standards and reactive capacities in mine rescue and emergency management.