Excursion Germany / Austria / France 2006
From August 28 – September 9, 2006 the Institute of Mining Engineering I, along with 11 students and assistants, visited Austria, France and Southern Germany on a mining excursion.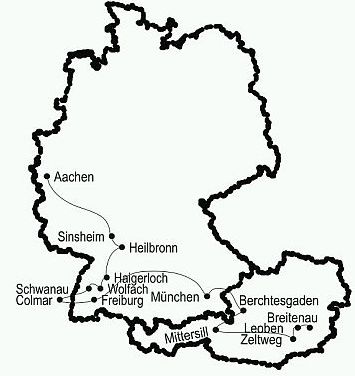 Most of the reports on the respective excursions visits were written by the students themselves. On 13 site visits, including visits to underground mines, industry supplier enterprises, an university and to two technical museums, the participants were able to gain a representative insight into mining and engineering in those regions.
Stops on the trip
As part of the excursion, the following mining companies, universities, industry supplier enterprises and museums were:
Voest Alpine Bergtechnik Gesellschaft mbH
Montanuniversität Leoben
Magnesitbergwerk Breitenau
Scheelitbergwerk Grube Mittersill
Salzbergwerk Berchtesgaden
Deutsches Museum München
Besucherbergwerk Schauinsland
Liebherr-France SAS
Herrenknecht AG
Fluss- und Schwerspat-Grube Clara
Steinsalzbergwerk Heilbronn
Auto & Technik Museum Sinsheim
In the excursion report, you'll find an extensive review of visits, experiences and impressions that the participants were able to gain during their stay in Southern Germany, Austria and France.