Excursion Poland 2003
From September 7 – 20, 2003 the Institute of Mining Engineering I, along with 10 students and assistants, travelled to the West and South of Poland on a mining excursion. With a total of 14 visits to mines, industry suppliers, mining fairs and to universities on a approximately 1,300 km long route the excursion program mediated a representative view of the Polish mining industry and its environment.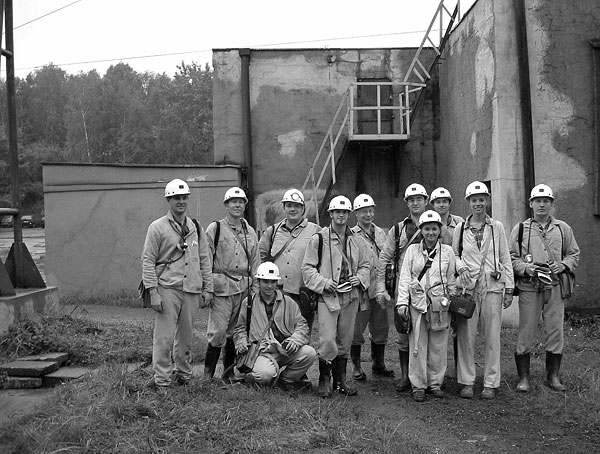 Stops on the trip
As part of the excursion, the following mining companies, universities and industry supplier enterprises were visited:
Centrum Mechanizacji Górnictwa KOMAG, Gliwice
DBT Polska Sp. Z o.o., Myslowice
Elektrownia "Belchatów" S.A., Belchatów
GONAR Spólka z o.o., Katowice
KGHM Plska Miedsz S.A., Lublin
Kopalnia Wegla Brunatnego (KWB) "Belchatów" S.A., Belchatów
Kopalnia Wegla Kamiennego (KWK) "Staszic", Katowice
Kopalnia Wegla Kamiennego (KWK) "Wujek", Katowice
Wydzial Górnictwa i Geoinzynierii, Akademia Górniczo-Hutnicza (Fakultät für Bergbau und Geoingenieurwesen, University of Science and Technology), Krákow
Wydzial Górnictwa i Geologii, Politechnika Slaska (Fakulät für Bergbau und Geowissenschaften, Schlesische Technische Universität), Gliwice
Wydzial Górniczy, Politechnika Wroclawska (Fakultät für Bergbau, TU Wroclaw), Wroclaw
Zaklady Górnicze "Trzebionka" S.A., Trzebinia
In the excursion report you'll find an extensive review of visits, experiences and impressions that the participants were able to gain during their stay in Poland.