GetIn-CICERO
German Indonesian Geo-Campus in Indonesia for Competence in Education and Research for Organizations
Project Goals
With the competence network "German Indonesian Geo-Campus in Indonesia for Competence in Education and Research for Organizations" (GetIn-CICERO), a science campus jointly operated by the Faculty of Georesources and Materials Engineering (RWTH Aachen University) in cooperation with the Indonesian Gadjah Mada University (UGM) is being established in Indonesia. It follows the aim to intensify the research cooperation between the partner countries and the project is funded by the German Federal Ministry of Research and Education (BMBF). Building up on the project's two-year implementation phase (2017-2019), the project currently is the consolidation phase (2020-2022). Within the consolidation phase, the project's main activities lie within the preparation of joint research proposals, as well as the organization of workshops, summer schools and a conference in Yogyakarta. The project is coordinated by Prof. Dr. Rüde and Prof. Dr. Putra (UGM).
In the context of the consolidation phase, activities will be pursued in the following four areas:
Expansion of the network
Quality development of the integrated laboratory
Implementation of a scientific training program
Initiation of project proposals and research works
Research Clusters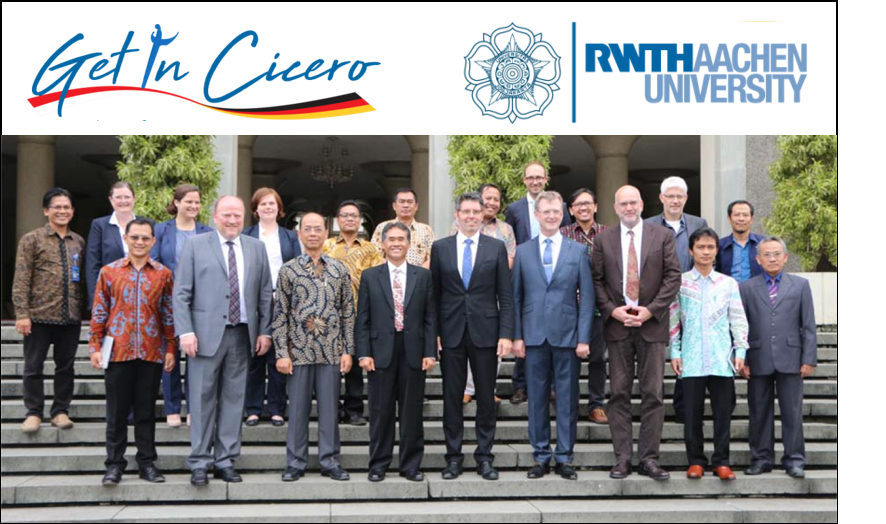 The preparation of joint research proposals is structured in four clusters in which interdisciplinary German-Indonesian teams of scientists work together, develop project ideas and prepare project proposals. The MRE is involved in two clusters.
Environment and Water
(Prof. Male, Prof. Schwarzbauer, Prof. Hendrayana)
Sustainability and use of geo-resources
(Prof. Lottermoser, Prof. Preuße, Assoc. Prof. Idrus)
Geo-risks in coastal areas, climate adaption
(Prof. Kukla, Prof. Reicherter, Assoc. Prof. Wilopo)
Energy and raw material efficiency
(Prof. Friedrich, Prof. Lottermoser, Assoc. Prof. Amijaya)
Activities at the MRE
Since October 2018, the MRE has been supporting the doctoral project of an Indonesian researcher as part of the GetIn CICERO project. Financed by a scholarship of the Indonesian Ministry of Finance, the researcher is working on his PhD project, which deals with the geological controls and characteristics of acid rock drainage in the Kali Kuning mining area on Wetar island in Indonesia. The primary research objective is the development of novel, simple and cost-effective field test methods for the characterization of ARD in the Kali Kuning open pit mine.