VR-Mine
Integrating Virtual Reality into European Mining Education
Executive Summary
VR‐Mine develops a virtual reality (VR) environment mimicking different underground mining situations in order to deliver a highly informative and interactive tool. It
will be used at European universities that offer M.Sc. courses in mining-related fields. VR‐Mine will initially be developed with the Mittersill mine (Austria) and
implemented at the Tallinn University of technology (Estonia) and the European Mining Course (EMC) in Aachen (Germany), which received EIT‐labelling.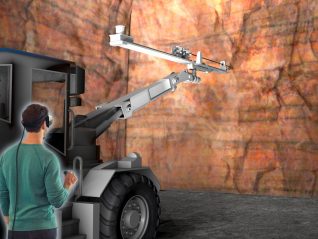 Motivation
application of VR enriches didactic approaches
cost-efficient training method (can replace costly field trips to mines)
training in a safe environment where mistakes can be made without any consequences
increasing learner's involvement and motivation to learn
Goals
development of a highly informative and interactive tool to improve the quality of mining education programmes
students will be able to interact with and influence specific mining processes and machines
students can observe health and safety measures as well as environmental aspects of mining
Application
European Mining Course (EMC) master's programme – a 120 ECTS mining engineering master's programme where students complete semesters at Aalto University, RWTH Aachen University and TU Delft
the mining programme of the Tallinn University of Technology (TTÜ)
a further field of application are other European universities that offer mining-related master's programmes
PR
The VR-Mine has been presented to a broad international audience of mining experts at the APCOM2019 conference in Worclaw (Poland). The project's vision was well received and found its way into two online mining journals. Read the articles by following the links below:
Project Partners